...because Chris and Kayla are getting married June 2st!
I wanted to post these shots of the gorgeous job that Rachel (matron of honor) did for Kayla, who is tying the knot in less than 3 weeks! WaHOOOOO!
Kayla's soon to be husband (Chris) and Rachel's husband (John) have been best friends since childhood (they were neighbors at one point!), and my husband (Tyson) joined their 'inner circle' in High School (maybe before?). Rachel and Kayla and Christina all went to high school together, and I played softball with Rachel in our early teens and met Kayla not long after thru our then boyfriends... we even went to Sr. prom together (well... not 'together' but, you know...) Who ever could have guessed we would all end up joined in one giant circle of holy matrimony? Crazy! I think its sooo cool that we go that far back and have been able to share each other's stories as they've unfolded.
ANYHOOT, enough with the history, now ON TO THE SHOWER!:
Kayla LOVES pink, and Rachel was so thoughtful in making this day all about Kayla's preferences... so obviously there were little touches of pink girly frills wherever possible. It was so feminine and pretty without being over the top... really well done.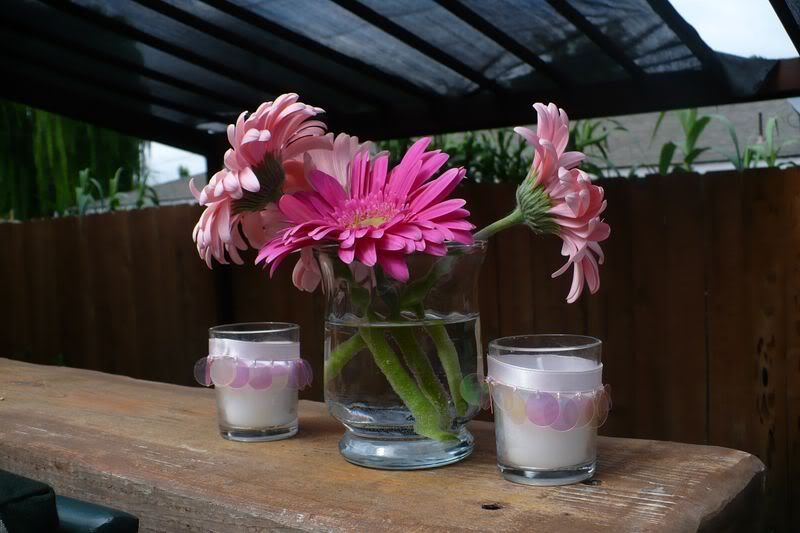 The event was outside, which was a little concerning at first when we awoke to an overcast day... but the sun actually made an appearance or two, and it was TOTALLY worth wearing a light sweater to be in Rachel's beautiful back yard.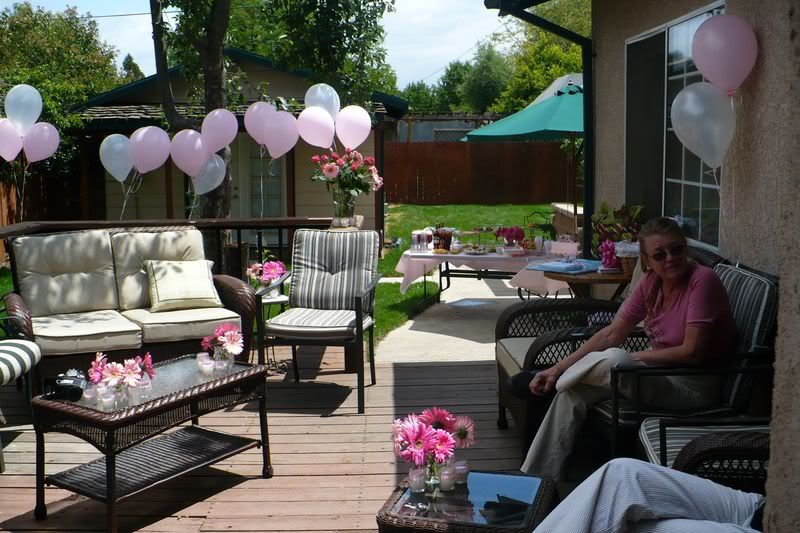 The shower was at 2pm, but I offered to come a little early to 'help' put all the last minutes together. Rachel graciously accepted, but when I got there she had everything SO under control I felt pretty useless. She humored me and let me do ALL the FUN jobs, like flower arranging and balloon disbursing and food situating and wine bottle opening.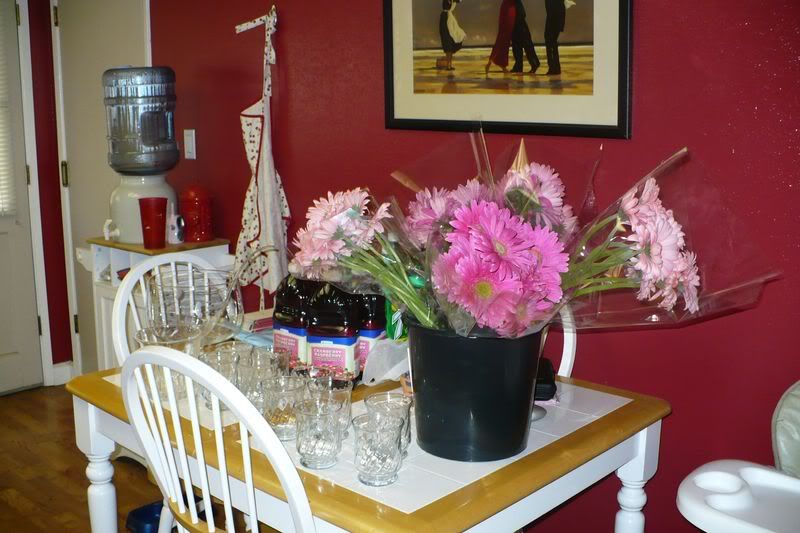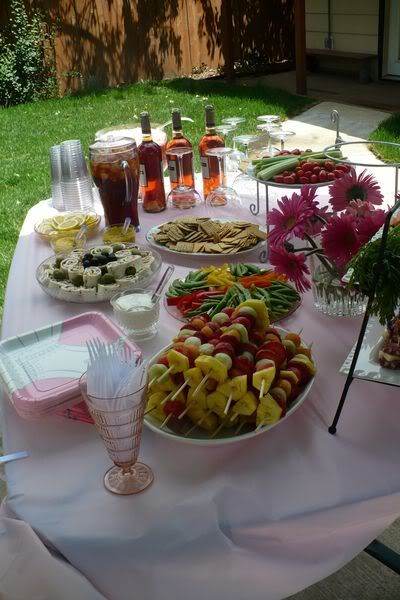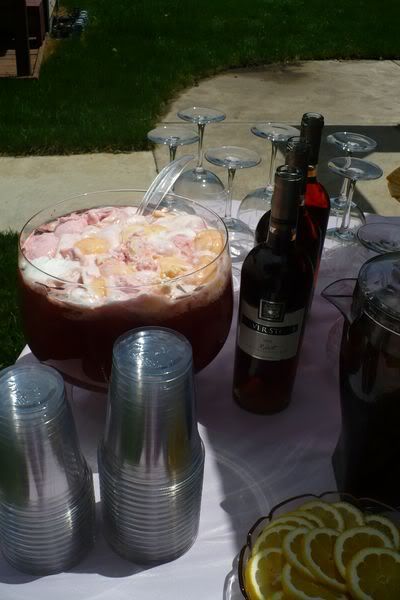 What a hostess! Oh, and did I mention that despite being 20 weeks pregnant and a mother of a 15 mo old, she still managed to have things so organized we sat around and chatted for 45 minutes before the party showed up?
She always has been kind of an over achiever. ;)
The shower was simple, low key, and classy. No silly frilly 'make me a gown of toilet paper' games. A brief ice breaker to get everyone aquainted followed by plenty of time for eating, chit chat, feeding our faces some more, presents, cake, ok maybe just ONE more time to the food table... ah. It was bliss. I want to go back and eat it all again. Yummmmmmmmm.
(Isnt Christina HOT in this picture??!?! )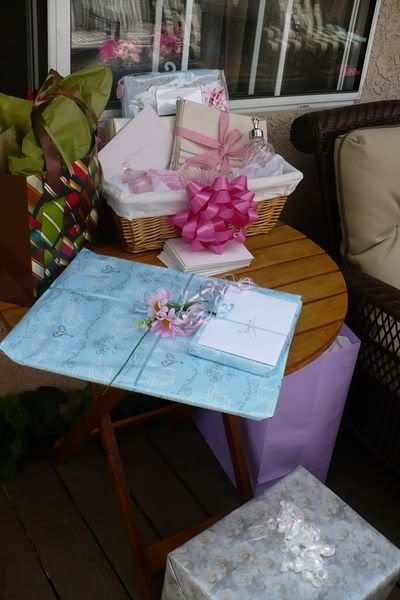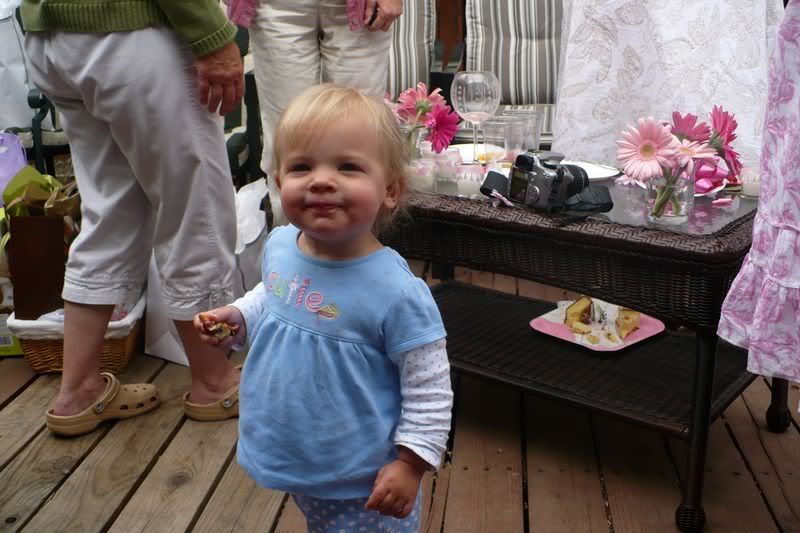 Julie had fun pretending to be one of the fancy and refined ladies whilst I got to sit at the feet of the bride to be and assist as her 'special helper...' for all the packages with the extra strong tape she just couldn't possibly pry open without the help of my super human gift opening capabilities. Man, I just dont think I will ever get past peeing my pants in pure joy over an occasion that involves presents of any sort. GAH! I want to open presents now. Somebody bring me one? ;)
Anyhoot. Rachel nominated me to be the honorary cake-baker, which I was initially stressing about (in a good way...) because as much as I LOVE to bake, I seem to have a bad case of performance anxiety (hence, Anabelle's first birthday cake fiasco...Ugh. If only I had discovered blog therapy back then!). But... yet again, thanks to my amazing friends... I think I managed to pull it off.
Stephanie
happens to be an old pro by now after perfecting this amazing recipe that
Flo
posted awhile back. I did a trial run (or 2)... everyone was really devastated about having to sample the dummy cake over and over and over again at first, but I think it paid off in the end. The curse is broken, huzzah!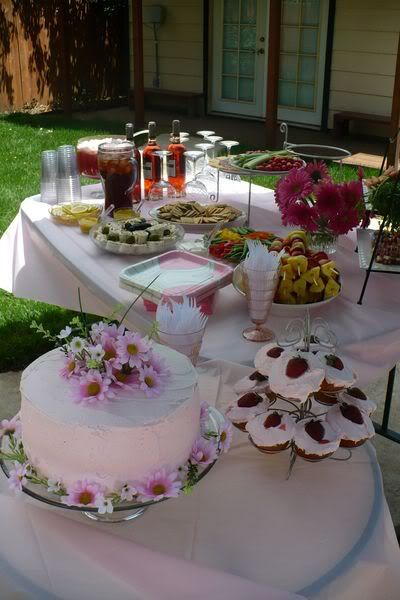 Just think, Kayla... the next time you cut a cake you will be in a gorgeous white dress!! Wow. I cant wait, you deserve all the best and more and I LOVE when good things happen for good people. Can't wait for the next decade of friendship! Muah!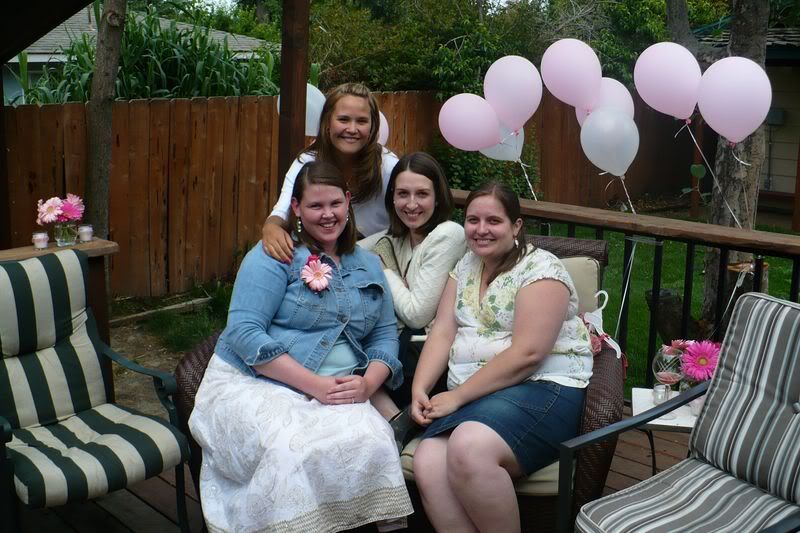 XO,
Beth