Its a dirty job, stimulating the economy... but SOMEONE has GOT to do it. AND... being the patriots that Tyson and I are... we have selflessly and single handedly taken it upon ourselves to turn this economic 'slump' around.
(That is to say we got our $1800 check in the mail. Yessss!)
I have wanted a new computer desk for our room for awhile now. Every desk I have come across in the past has been SO bulky and has too much storage that ends up collecting clutter and dust, like SO: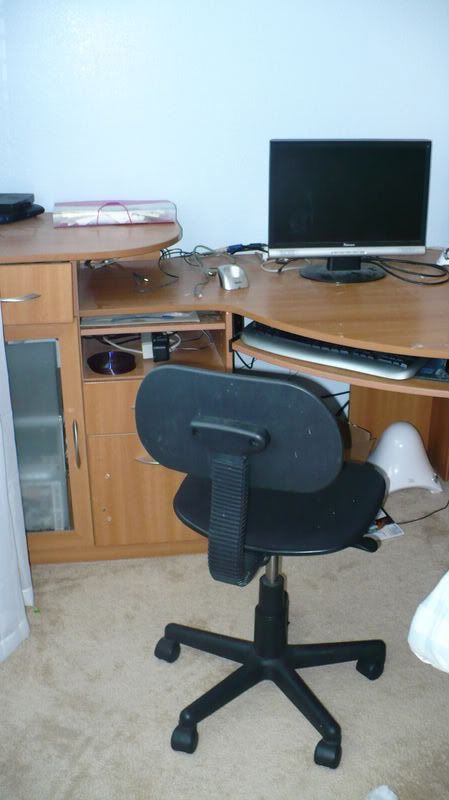 WHAT was I thinking, buying this desk?!? I am married to the definition of pack rat. AGHK!
Then, there is this little chair in the corner. I like having a place to sit in a room... but this overstuffed living room piece was WAY bulky and took up too much space.
So, basically the feng shui of the room was just... off. This desk stuck out at a weird angle, had too much clutter... the armoire is a keeper, but has too much dead space for... again... the clutter. And with the chair the size of the moon laughing at us in that corner of the universe it occupied, things were way over crowded.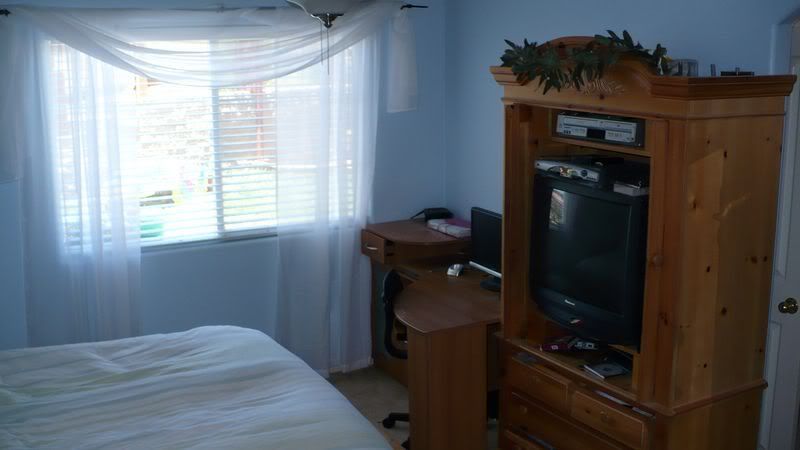 Until.....
We spent a Sunday morning at Pier1 Imports, and came home with a new bedroom!
Check out the new desk... how CLEAN! ...and a pretty close match to our existing bedroom furniture if I may say so. I was kind of stressed out about how I would find something to go with what we already had, or if I should even try, but wha-la!:
Oh, and did I mention the best part? CLEARANCE, $120! Score.
THEN, just as the kids were spent and we were about to run like the devil himself was chasing us, I noticed this cute little wicker rocking chair calling my name by the check out. $129... not on sale.. but, OK. Since people are loosing their homes and their jobs, It would have been COMPLETELY SELFISH to walk away without buying this chair that was
clearly
made
exclusively
to be my reading and blogging companion...simply because it wasn't on SALE.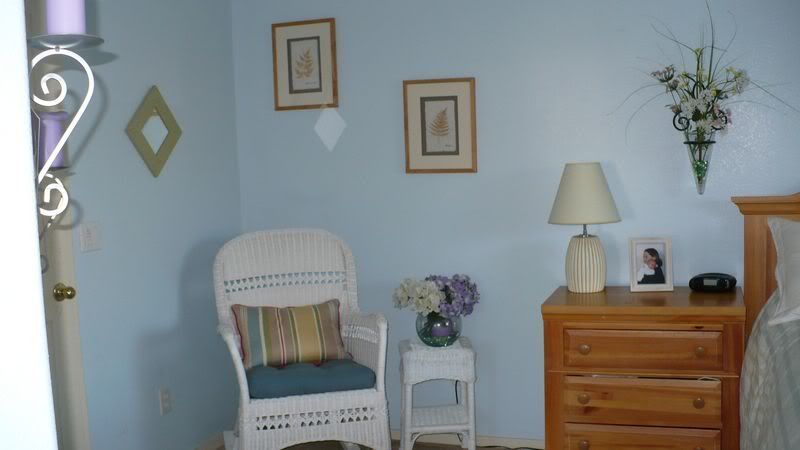 The cushion was clearance, so that KIND of counts, right?
Next, we headed to Michael's to replace the old silk flowers in the sconces I had by our bed. We also scored the wicker side table that PERFECTLY matched the chair for half off ($20!... see, I told you the chair was destiny), and then I noticed these cute little stained glass pieces to hang over our bed, also 50% off ($15/each).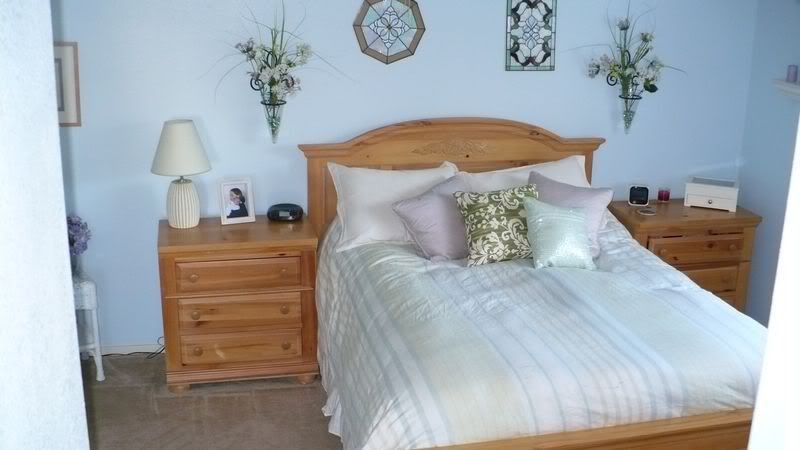 When we got home and started putting everything together and rearranging, I remembered
Stephanie's
helpful advice/idea of putting the computer tower INSIDE the armoire to hide the clutter and cords and such. Now THAT is a domestic goddess after my own heart.
Ty fashioned this little wooden booster seat thingy (that is the official technical term) to raise up the TV inside the furniture unit and make room for the tower underneath. It is also a way to utilize the dead space inside previously occupied by... clutter! Added bonus... you can see the TV better in bed. Win, win, win (bonus points for anyone who catches The Office reference here).
So thats our bedroom's face lift... total around $350... plenty left over to blow, er, I mean spend/save responsibly...
So I also wanted to get a few things for the daycare (and our kids).
We decided to hit Toys R Us, which Dawson couldn't have been more excited about. It was SO FUN. We came home with an easel for outside painting, a new play dough set, some moon sand... which I have every intention of blogging about separately... and (the big splurge) a new play kitchen for Anabelle's big girl room: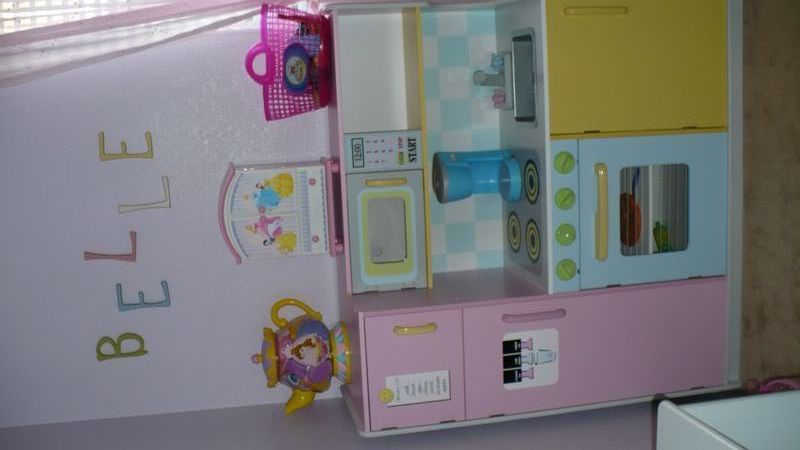 We had gotten the kid's a play kitchen for Christmas, but it was a cheapie and was so loved that it was broken almost immediately following Christmas day. Even though its been on its last leg for quite awhile now, the kids continue to play with it all the time. So it felt like a good investment.
Also, I loved the colors, and this kitchen was the second cheapest play set they had! I think it was $120's. Not a bad deal, and it even matches her big girl room.
Which brings me to... the bunk beds! My parent's had purchased a set awhile back but have since outgrown the need for them. They are still in pretty good shape, and though Anabelle won't be ready for a sleepover for quite some time, its great to have them passed on to us. Thanks, guys!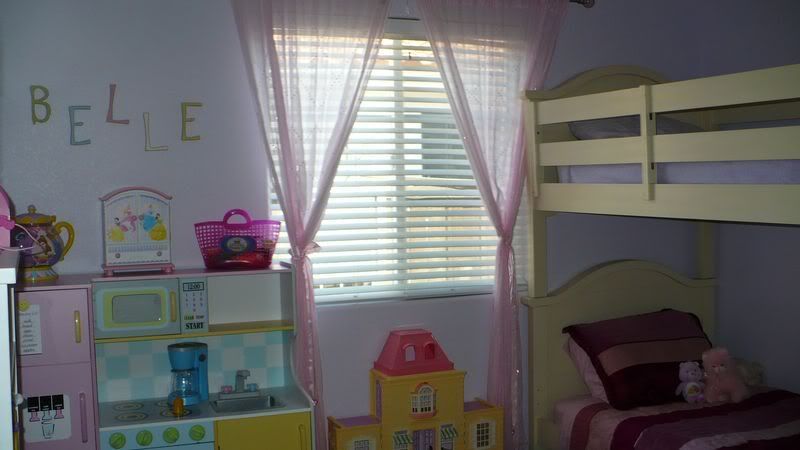 Lets just hope nobody breaks an arm or severs a spinal cord over the years to come, because... In the famous word's of Blues Traveler... its a loooooooooooooooooooong... way to fall.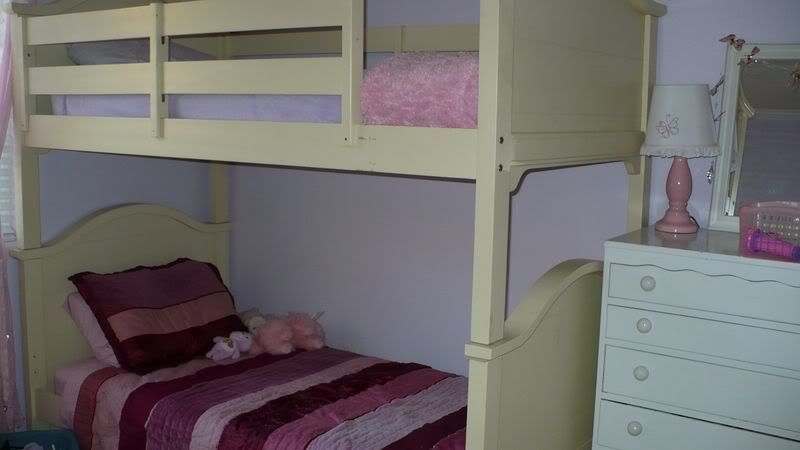 So I guess that's about all, folks. I'm really happy with the (not so extreme) makeover(s). And to think of all the kid's in China who's jobs are spared thanks to our family's part in economic stimulus. HA!
I'm about to sign off (finally)... I've been working on getting this posted since SUNDAY NIGHT.

But I wanted to leave you with THIS: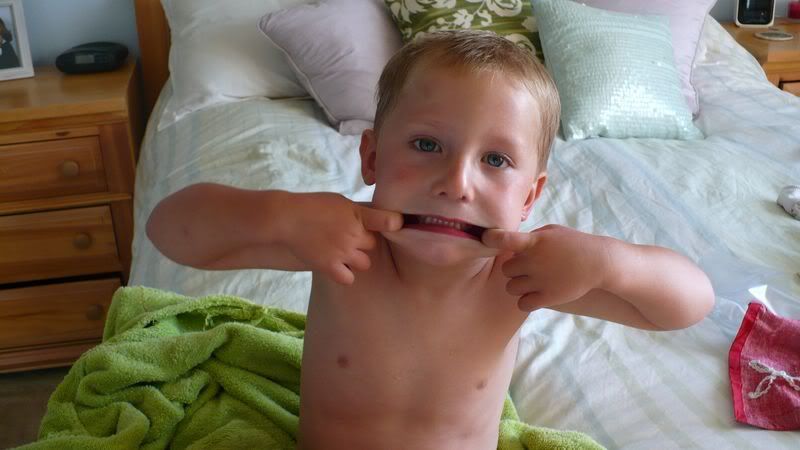 Neener neener. I have a cute new bedroom, and you dont. HA!




(I guess the kids are rubbing of on me, sorry bout that).
xo,
Beth