I wanted to give my super ambitious, totally hard working husband a shout out...
Look what he (without being asked) made me over the weekend... out of scraps at that!
The lattice was from last year's garden... sun faded and falling apart. He stained it to match the fence... and made the box to match the other 2 boxes on the front of the house he made last fall...
Thank you, sweetie peetie pumpkin pie! And you even cleaned up shop when you were finished... a man after my own heart.
So. I had to relocate for this year's garden project. Last year it was on the other side of the house... which is now occupied by terrible black beast (um... thats what she said?).
This year, I utilized the flower bed in the backyard for tomatoes, eggplant, and bell pepper. I kept the flowers too, but am expecting those to get choked out sooner than later. Why cant veggies be more pretty like flowers (and maybe also taste like chocolate...)??!!
Oh, and you cant really tell from this picture, but Ty also recently discovered the back fence was 3 feet inside our property line, so (at nearly the cost of our marriage) he moved it out, which actually ended up turning out quite nice (I can admit it...now). So, it created a little nook to the far right and half cut off in this laaame picture for a raspberry bush! Im so freaking thrilled about fruit this year...
Which brings me back to in front of said trellis project, where we also invested in these tasty-to-be fruit trees. The one in front is peach, middle plums... and nectarines in the back with the fence around it... yah. The deer munched the poor little gal down to her birthday suit the second night at her new home.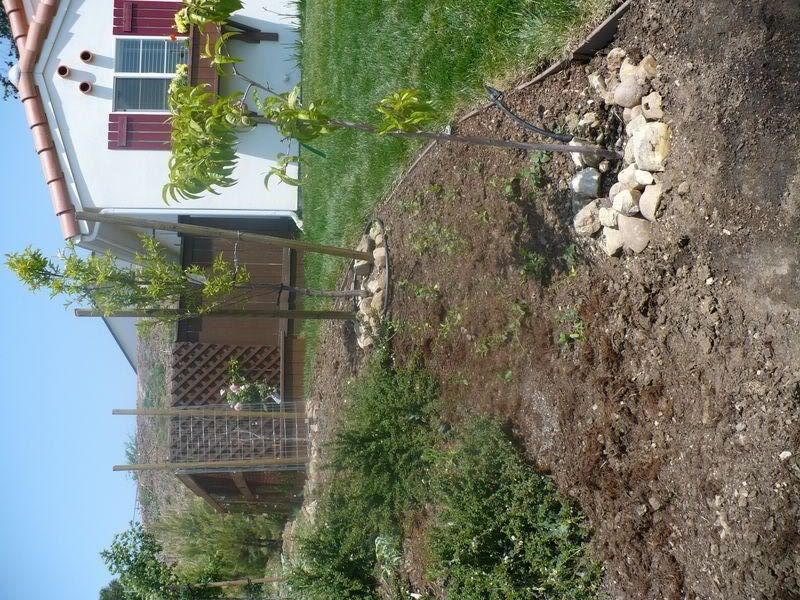 Last year we had pumpkin patch on the hill behind the house... which the deer also ate at the peak of the harvest... after I spent the whole blistering hot summer faithfully standing in the sun and being poked by the thistles to water and nurture the little dears. Murderous deer. I think the hunter in Bambi is SO misunderstood. In fact... I kind of wish he'd gotten a better shot and taken out the evil little foal and his freaky father while he was at it...
aaaaand... Im going to call my therapist now. But anyway... thanks Ty. You rock my world.